The Clinic
Why Choose S1 Chiropractic?

S1 Chiropractic is Sheffield's only city centre chiropractic clinic. Our
convenient location
allows for easy access from anywhere in Sheffield, via any mode of transport.
S1 Chiropractic provides high quality healthcare in a warm, caring, professional and friendly environment. We are very well equipped to provide relief from back pain and other muscular and skeletal conditions. We tailor our treatment and recommendations to suit the needs of your body, your lifestyle and your health goals.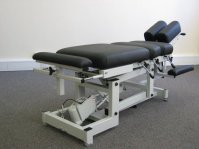 S1 Chiropractic relocated to its current premises in April 2011. The clinic features a leather-upholstered hydraulic adjusting table to give you the most comfortable patient experience possible.





There is a changing screen for those who are required or indeed prefer to get changed for their treatments. Patient gowns are provided on each visit for female patients to wear. We also have specialist pregnancy cushions that enable expectant mothers to comfortably receive treatment when lying down on their front without the possibility of squashing their baby. Artwork adorns the walls and patient educational literature is available to help you understand and get the very best from your chiropractic care, with a complimentary copy of the clinic newsletter sent out to patients on a quarterly basis.